Date: Apr 02 2019
A lot has been said about the new generation of advisors. For the most part the narrative is about how they are different from their Baby Boomer predecessors. At times these generational differences may be cast in an unfavorable light.
If we unencumber ourselves with possible predispositions about generational attitudes and behaviors, we might then focus on what we think is the heart of the issue. What will it take to become a great advisor to families of wealth in the future? I suspect we can all agree that the advisor of the future will be different than the advisors that have brought us to the present. 
Given the rapidly changing environment in which we operate, this seems to be the right time to pose the question about the future advisor. We think there are three areas that are shaping what the advisor of the future will look like: How Talent is Sourced and Developed, Impact of Technology, and What Services will be Offered. Based on our research we offer the following observations:
 
How Talent is Sourced and Developed: 
In the past, advisors serving families of wealth were drawn from talent pools such as financial or investment firms, law firms, and accounting firms.
The new generation of talent may come from a wider array of backgrounds. Anecdotally, FOX members tell us that they are recruiting from a variety of sources outside the financial industry, including hospitality, social service, and increasingly recruitment from college campuses, where there are more private wealth programs than ever. 
Many, if not most firms, have established their own development programs in response to the talent shortage, a recognition that they may not be recruiting the level of experience that they had in the past and the increasing desire to train people into the client experience that they want for their clients.
Read More: How Advisors are Redesigning their Talent Strategy (whitepaper) >
 
Impact of Technology:
Increasingly, advisor firms are investing in technology to advance the client and employee experience.
If the advisor of the recent past used technology as a separate utility, the advisor of the future has the tools and inclination to use technology in real time to help themselves and their client. This potentially leads to a much more frictionless way of sharing information. 
In the UHNW space, technology is not a replacement for advisors, i.e. Robo-Advisors. Instead of a bifurcated choice between a person and machine, we suggest that there is an evolving role where people and technology work more closely.
Focus of Client Experience Initiatives
MFOs/Advisors are Leveraging Front-End Technology to Improve the Client Experience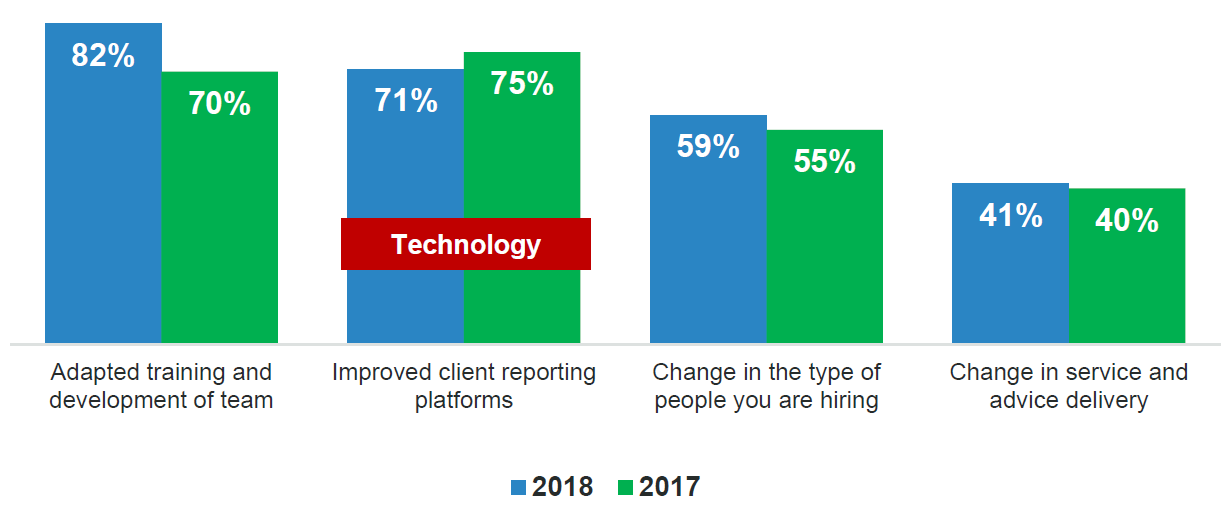 Source: FOX MFO/Wealth Advisor Survey 2018-19
 
What Services Will Be Offered:
As the investment preferences among families of wealth shift to more passive vehicles, alternatives, and direct investing, the skills of investment advisors will need to evolve.
Demand for "strategic services" including planning, advice, and education will require that advisors comfortably navigate across several disciplines. 
In addition, advisors will need to become increasingly comfortable asking more questions of clients and not driving to a solution too soon.

What are forward-thinking advisory firms doing about attracting and developing the advisory of the future? 
Taking a cue from firms outside our industry, some FOX advisor members are using the culture of their firm, including their values, as a means of attracting new talent.
Building teams, not just great individuals, is a shift from past practices. Horizontal moves to different teams can be easier for those who have acquired team skills and accelerates the opportunity to get more expertise.
This harmonization of advisors and technology is what many of the leading advisors we surveyed are seeking to achieve as they work toward a superior client and employee experience.