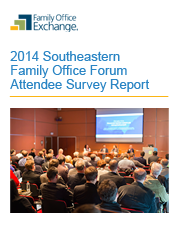 Recommended for:
Family office executives, advisors, family members
Attendees of the 2014 Southeastern Family Office Forum (SEFOF) participated in a survey covering a range of topics of interest to ultra-wealthy family members, family office executives, and advisors.  Topics include: data security and privacy, outsourcing of services, wealth education strategy and programming, and engaging the next generation of wealth owners.
This report covers key findings of the survey among a total of 69 participants that include family members, family office executives and advisors.  Findings focus on family members & FO executives.  Differences between the two groups are highlighted where noteworthy.
This document is available to FOX Members only.