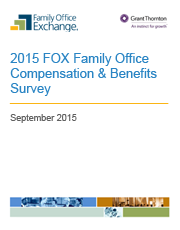 Recommended for:
Family Office Chief Executives
Is your compensation and benefits plan competitive? Are you doing everything you can to attract and retain qualified family office talent that you need?
The 2015 FOX Family Office Compensation & Benefits Survey will help you answer these questions. Featuring data from 117 family offices, this year 's report includes:
Family office compensation practices - prevalence of employment contracts and annual reviews, size of employee training and development budgets
Benefits and perquisites - everything from medical and dental to a company car - who receives these benefits and what cost is carried by the family office
Incentive compensation - methodology and annual targets for short-term incentives, types and structure of long-term incentive compensation
PTO - common vacation, paid time off and maternity/paternity policies
In exchange for survey participation, participants receive a more detailed report of the results.
Contact us for more information on how to take part in our 2016 FOX Family Office Benchmarking surveys.
Recommended for: Wealth owners and family office executives
This report is available only to family office members of FOX.
This document is available to FOX Members only.