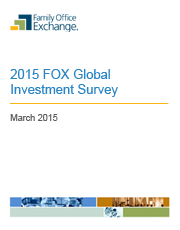 Recommended for:
Investment professionals and family leaders
This annual FOX survey of investor attitudes and behaviors provides readers with peer perspective on a wide range of topics including – Economic Outlook, Investment Objectives and Time Horizon, Asset Allocation and Performance, Use of Investment Professionals and Committees, Reliance on Alternative Investments, and Custody, Investment Consulting and Investment Management Costs.
This item is only available to FOX members.
This document is available to FOX Members only.