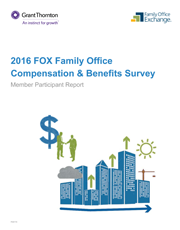 Attracting and retaining talent is consistently the #1 human capital challenge for family offices, and having a competitive compensation and benefits plan is critical for the overall success of your office. How does your plan stack up? The 2016 Compensation and Benefits Survey will help you assess and compare your plan to that of 151 family office peers with information on 25 different positions.
This year, FOX is delighted to partner with and bring Grant Thornton's 25+ years of compensation design and consulting expertise to the survey. This year's study covers the following:
Family office compensation – structure of employee performance reviews, governing board compensation, and employee training budgets
Benefits offered – short- and long-term incentive plans, 401(k) plans
PTO – common vacation, paid time off and maternity/paternity policies
In exchange for survey participation, participants receive a more detailed report of the results.
Contact us for more information on how to take part in our future FOX Family Office Benchmarking surveys.
This document is available to FOX Members only.