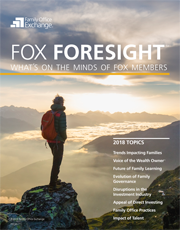 FOX Foresight keeps FOX members up to date on the latest thinking on matters that affect enterprise families. It summarizes what we have been learning from our members and our subject matter experts over the last year. Please share it broadly within your family, your office, and your advisors.
FOX Foresight is presented in 8 chapters:
Trends Impacting Families
Voice of the Wealth Owner™
Future of Family Learning
Evolution of Family Governance
Disruptions in the Investment Industry
Appeal of Direct Investing
Family Office Practices
Impact of Talent
This document is available to FOX Members only.