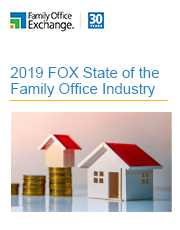 Recommended for:
family leaders and family office executives
The FOX Family Office Study is intended to empower family leaders and family office executives to understand important metrics to measure family office value, identify areas for improvement, and plan for the future of the family office and the entire family enterprise. This report can also benefit owners by enhancing their understanding of the use and complexity of the family office, as well as identifying issues around scope of services, staffing, and outsourcing.
New to the report for 2019 is an integrated complexity index, that allows you to compare your situation to other offices by size of office, size of asset, and generational stage. We are also making recommendations in each section for actionable steps to be taken to improve the performance of the family office.
This document is available to FOX Members only.