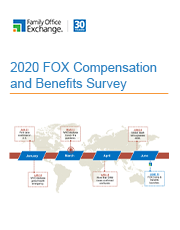 The biennial 2020 Compensation and Benefits Report is designed to help family office board members and executives assess the office's compensation plan. The report highlights key family office compensation and benefits areas, and provides invaluable perspective on your office's plan relative to your peers.
This year's survey was, once again, developed with Grant Thornton. We are pleased to bring Grant Thornton's experience and insight to enhance your decision making. Thanks to the 201 office executives who contributed their time and data. We are confident this will be a valuable tool to benchmark your office's performance.
This document is available to FOX Members only.