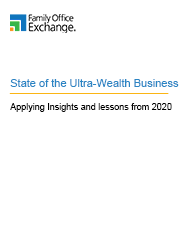 This is the report of findings of the 2021 FOX State of the Ultra-Wealth Business.
The full report is only available to firms that participated in the study. If your firm participated, please contact your FOX Relationship Manager to obtain a copy of the report. 
The study represents FOX's best and most current thinking on the direction of Ultra High Net Worth (UHNW) business. The report is presented in three sections, with key takeaways identified for each as follows:
Checking-in on the State of the Business
Enhancing the Value Proposition
Trending Topics including:

Talent
Sales and Marketing
Technology
This document is available to FOX Members only.