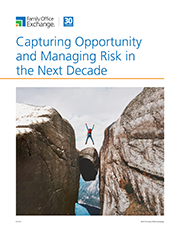 A new FOX study, "Capturing Opportunity and Managing Risk in the Next Decade," is now available for members who are interested in taking a proactive approach to risk management across the enterprise. Complexity and risk are inevitable consequences of building and perpetuating wealth. Therefore, the issue at stake for families of wealth is not risk avoidance, but rather, risk management. Well-managed risk presents opportunities, but it takes a team operating as trusted partners to sort through the range of risks, helping families make the best decisions.
In addition to the study, the 100-question Risk Assessment Survey designed to help individuals evaluate their family's risk profile is now available through an interactive online tool. Individuals can print out the results to gain a better understanding of areas that need attention and share with other family members. To access, visit familyoffice.com/risk-assessment-survey.
This document is available to FOX Members only.