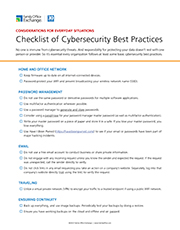 No one is immune from cybersecurity threats. And responsibility for protecting your data doesn't rest with one person or provider. So it's essential every organization follows at least some basic cybersecurity best practices.
A great step toward ensuring your data is safe is to maintain good cyber hygiene. We recommend hiring a third party to conduct periodic holistic threat assessments to surface issues that should be mitigated/controlled.
This document is available to FOX Members only.