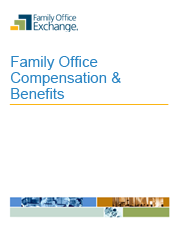 Recommended for:
Wealth owners and family office executives
Compensation and benefits are consistently the largest line items in every family office budget, and the people on your team have the greatest impact on your overall success. Consequently, you need a competitive compensation plan that motivates and rewards employees.
In this third report from our 2013 FOX Family Office Benchmarking series, we take a comprehensive look at current human resources practices, including:
Family office compensation practices – prevalence of employment contracts, severance policies and annual employee reviews
Incentive compensation – methodology and nature of short- and long-term incentives
Benefits and perquisites – what is offered to whom, and what does it cost  the office
Paid time off – vacation, maternity and flexible work options
In exchange for survey participation, participants receive a more detailed report of the results.
Contact us for more information
on how to take part in our 2014 Family Office Benchmarking series.
This report is available only to family office members of FOX.
This document is available to FOX Members only.