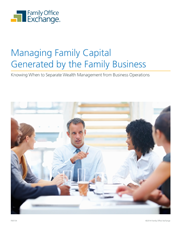 Recommended for:
Family leaders, family office executives and advisors
Business owning families face the simultaneous challenges of running a business while planning for the future of the family and the management of family capital. While successful businesses benefit from disciplined operations and strategic planning, the management of family wealth is often eclipsed by the needs of the business and delegated to trusted business executives.
Knowing when to separate these functions and how to make a smooth transition can increase the chances of long-term financial success and reduce unnecessary exposure to legal and privacy risks.
This article is intended to encourage conversation among the family, business management and trusted advisors about how to most effectively deploy the family's wealth outside of the business. We include a checklist of Incremental Steps that families can take to begin the separation process.
This document is available to FOX Members only.