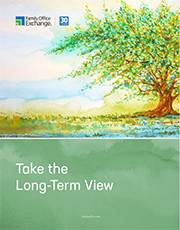 Recommended for:
Family leaders, family office executives, business owning families
Revised Feb 2020
Originally Published in 2014 
-- 
As the scope of a business-owning family's activities expand and the family grows across generations, the organic shift from a business-centric family to a family-centric enterprise or "family enterprise" begins. The family is faced with the issue of how to preserve the family wealth and well-being beyond the first generation.
Contrary to popular belief, it isn't the size of the fortune that determines a family's ability to build a successful family enterprise. Instead, family members must have a shared outlook that is characterized by a long-term view and rooted in a common sense of purpose, together with a proven set of behaviors and practices that enable success.
We bring these best practices to life by offering a Family Enterprise Framework, which demonstrates how several systems, processes and disciplines must come together in an integrated fashion to form the family enterprise structure.
In this paper we:
Explain what "taking the long-term view" means
Document characteristics of a successful family enterprise
Describe the Family Enterprise Framework and identify 12 corresponding building blocks
Provide an assessment tool that can be utilized to develop an action plan to strengthen the family enterprise
This document is available to FOX Members only.