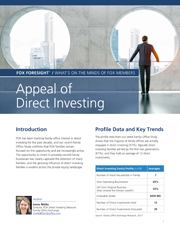 Recommended for:
Private Investors, Family Office Executives, Family Members, and Advisors
FOX has been tracking family office interest in direct investing for the past decade, and our recent Family Office Study confirms that FOX families remain focused on this opportunity and are increasingly active. The opportunity to invest in privately-owned family businesses has clearly captured the attention of many families, and the growing influence of direct investing families is evident across the private equity landscape.
This article covers the growing interest in private company investments. It tells stories of families who are pursuing this opportunity, highlighting the top themes from FOX's research and ongoing conversations with FOX members. It summarizes what we have been learning from the FOX community and our subject matter experts over the last year.
This resource is available for free to the FOX Public Network. To access, log in here or complete this form: