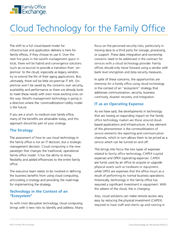 Recommended for:
Family Office Executives
The shift to a full cloud-based model for infrastructure and application delivery is here for family offices, if they choose to use it. Over the next five years in the wealth management space in total, there will be hybrid and convergence solutions (such as co-source) to provide a transition from 'onpremise' to the cloud, especially as legacy vendors try to extend the life of their aging applications. But, ultimately, there will be little on-premise IT left.
Onpremise won't be saved by the concerns over security, availability and performance as there are already tools to meet these needs with even more exciting ones on the way. Wealth management technology is going in a direction where the 'commoditization'/utility model is the future.
If you are a small- to medium-size family office, many of the benefits are attainable today, and this approach should be part of your strategy.
This resource is available for free to the FOX Public Network. To access, log in here or complete this form: