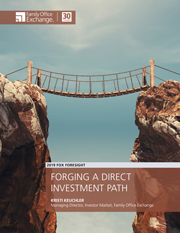 Recommended for:
Family Office Executives, Family Members, Private Investors
At Family Office Exchange (FOX), we have seen significant growth of interest in—and execution of—direct investments in operating businesses and real estate by FOX member families. In a 2018 FOX survey, more than 80% of respondents reported that they allocate capital directly to investments, bypassing external management, in order to get exposure on their own or through co-investment with other families.
The following chapter is an excerpt from the 7-chapter members-only 2019 FOX Foresight publication. It explores investment data compiled from 103 family offices, along with insights from FOX experts and the broader FOX member community. If you are interested in the full report, click here to learn more about membership and how you can join. 
 
This resource is available for free to the FOX Public Network. To access, log in here or complete this form: