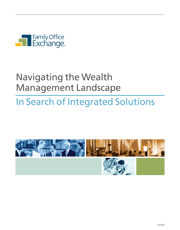 Recommended for:
Family Office Executives, Wealth Owners, Private Investors
The nature and variety of investment alternatives, ever-changing tax laws and rigorous regulatory constraints make the work of managing multigenerational wealth more complex than ever. The common use of the term "wealth advisor" makes it difficult to distinguish between product providers and independent advisors who are paid to look out for the owners' best interests.
The goal of this white paper is to help you navigate this complexity with greater understanding of the benefits of an integrated or holistic approach to wealth management and the roles of the service providers who will partner with you to manage your family's wealth for the long-term.
This resource is available for free to the FOX Public Network. To access, log in here or complete this form: