Date: Dec 14 2015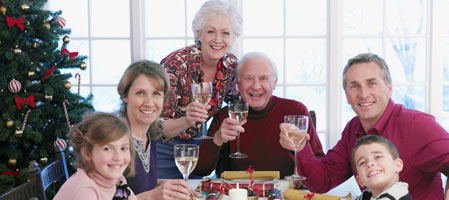 Recently, a family I advise came to me looking to plan a family meeting. Inevitably, the question came up: "Well, should we do it at Thanksgiving or at Christmas?" My response? Avoid both.
There has been a growing recognition by families of the need to prepare future generations to be responsible owners and stewards of the family's wealth. Family meetings can play a role in this process. If it's been awhile since the last family meeting, the holidays may feel like the perfect opportunity to share details about the family's succession or charitable giving plans.
However, conversations held around emotionally charged times—like during the holidays, major family celebrations or during stressful periods such as during a major illness—can cause more harm than good.
What's more, instead of planning to "get it over with" in one go around the holiday table, families should recognize that these meetings are not "one and done." Families seeking to prepare future generations should anticipate holding regular meetings to help educating members over the longer term—and, if possible, hold those meetings at a distance from the holidays.
In the case of the family I was advising, I suggested avoiding a holiday family meeting and instead to aim for February or March. The G1s spend their winters in a warm weather location, and they like to have the kids come visit them while they're there, so I recommended holding the family meeting there in February or March. They'll have to spend a little money to fly people there, but it allows them to keep holiday time as holiday time and avoid the potential stress that might have come along with a simultaneous family meeting. The family agreed, and so the only meeting-related conversation they had over the holidays was a 45 minute chat about what social activities might be fun to add to the agenda for when they all get together for the family meeting. By keeping the holiday conversations at a very high level and focusing on things they could look forward to—and avoiding the sort of important-but-stressful conversations that have the potential to cloud the holidays—the family was able to enjoy their Thanksgiving and are now actually looking forward to the upcoming family meeting and all the fun activities they have planned to accompany the more substantive discussions.
-----

Mark K. Harder, Partner, Warner Norcross & Judd LLP
Mark K. Harder is a partner with the law firm of Warner Norcross & Judd LLP and serves as Chair of the firm's Family Office Group. He concentrates his practice in estate planning and administration for high net worth individuals and in the representation of family owned businesses and their owners.
Mr. Harder is a Fellow in the American College of Trust & Estate Counsel and is listed in Best Lawyers in America and Michigan Superlawyers. He was named 2010 Lawyer of the Year for Trusts and Estates in Grand Rapids, Michigan by Best Lawyers in America and was recognized as a 2010 Thought Leader in the Law by the West Michigan Business Review.
He served as Chair of the State Bar of Michigan's Probate and Estate Planning Section and was the Chairman and Reporter for the Michigan Trust Code Committee. He also is the co-author of Estates and Protected Individuals Code with Reporters' Commentary published by the Institute for Continuing Legal Education and is an active speaker for the Institute of Continuing Legal Education and other professional organizations.