Enterprise families are the most prepared to preserve the family and its wealth and well-being for future generations. Families who are successful in establishing an enterprise view tell us it is an evolving process that requires a clear vision for the future and a commitment by the family to ensure the vision gets implemented.
There are many complexities that come along with being a family enterprise. What starts out as a family business gradually evolves into multiple businesses, major real estate holdings, multi-generational trusts and investment portfolios, and many philanthropic endeavors. Successful families need a thoughtful way to plan for, organize and oversee these complex family activities.
The FOX Family Enterprise Experience, September 27-29 in Chicago, will teach you and your family how to design a long-term plan for your Family Enterprise.
This workshop is for board members, family leaders, and family office executives who can sense their family has grown beyond the business, and that they need to design a master plan for how to manage all the disparate parts of the family enterprise. We encourage you attend the workshop as a leadership team, so as to establish a common methodology for designing your enterprise plan.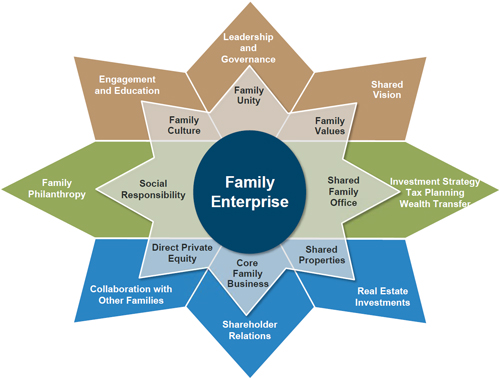 Click image to view larger.
Sign in to register
Agenda
Speakers
Accommodations
Agenda - September 27-29, 2016
 
Day 1 - The Family Enterprise Concept
Taking a Family Enterprise View
Understanding How Families Evolve Over Time
Developing an Enterprise Mindset
Family Goals and Supporting Structures
Measures of Success
Family Unity and Owner Engagement
Understanding Values and Guiding Principles for the Family
Patterns and Polarities that Define a Family
Attitudes toward Change and Transitions
Owner Education Process for Individual Development
The Impact of Wealth on Families
Challenges of Shared Ownership
Generational Patterns in Families
Family Goals that Drive the Enterprise
Opportunities and Risks Affecting the Future
SWOT Analysis for the Family
Process for Analyzing Risks by Type
Family Case Studies for Mapping Impact and Influence
Day 2 - Development of the Family Enterprise Plan
Defining a Clear Vision for the Family's Future
Rapid Change and Innovation that Affects the Future
Scenario Planning to Define Possibilities
Action Strategies to Implement the Vision
Developing the Enterprise Strategic Plan - A Case Study
Gathering Support for the Process
Designing a Structure to Manage the Plan
Unforeseen Developments in the Family
Charting the Family Enterprise Strategy
Valuing the Components of the Enterprise
Consolidating Family Goals into an Enterprise View
Developing a Process to Monitor Enterprise Goals
The Role of the Family Office in Support of the Enterprise
Profile of an Enterprise Family Office
Family Office as Integrator and Educator
Measuring the Value of the Family Office
Day 3 - Governance and Leadership in the Family Enterprise
Planning for Strategic Philanthropy
Family Values Aligned with Philanthropic Mission
Blending Donor Intent with Future Vision
Case Study: Using Philanthropy to Unify the Family
Leadership Development and Succession Process
Identifying Leadership Skills and Qualifications
Structuring a Process to Ensure a Smooth Transition
Designing an Objective Feedback Process for Leaders
The Importance of Governance in the Enterprise
Guiding Priciples for the Governance Process
Changes in Formation as the Family and the Enterprise Grow
Cultural Differences in the Decision-Making Process
Workshop Wrap-Up and Next Steps

Note: Workshop sessions will run from 9:00am - 5:00pm each day. Breakfast and lunch will be provided. A workshop reception and dinner will take place at 6:00pm on Tuesday, September 27.
CPE Credit: This program is eligible for up to 18 CPE credits. CPE credits are accepted at the option of state certifying boards. Requirements, compliance procedures, and acceptance may vary by state.
*If you would like to register more than 1 person for the workshop please contact events@familyoffice.com to receive a discount coupon code for additional registrants. 

Sara Hamilton, Founder and CEO, Family Office Exchange
Sara Hamilton is the Founder and CEO of Family Office Exchange (FOX). Sara is the co-author of Family Legacy and Leadership: Preserving True Family Wealth in Challenging Times, © 2010, Wiley & Sons. For the past 10 years, she has served on the Executive Education faculty of the University of Chicago Booth School of Business for the course on Private Wealth Management offered twice a year in Chicago. She is a member of the World Economic Forum's Global Advisory Council on the Future of Investing and a board member for the Private Directors Association.
Ms. Hamilton was recently named one of the Top 50 Women in Wealth Management by PAM and was honored with this award for three years running by Wealth Manager. She serves on the editorial boards of the Journal of Wealth Management and Trusts and Estates magazine.

Ann Dugan, Senior Managing Director, Consulting, Family Office Exchange
Ann Dugan has been associated with the Family Office Exchange (FOX) for many years and has served in a number of capacities providing value to FOX members.
For nearly 30 years, Ann served as the founder and Executive Director of the Institute for Entrepreneurial Excellence at the University of Pittsburgh where she also served as the Assistant Dean of the Joseph M. Katz Graduate School of Business. Ann has developed and delivered educational programs customized for the needs of families in business in various transition stages. Ann's programs, coupled with her dedication to individual member needs through the consulting process, have resulted in family and business success in current as well as future generations.

Christine Galloway, Director, Threshold Group
Christine Galloway retired as president and CEO of Okabena Company in December of 2014 after 21 years of service for one of the nation's most respected and innovative family offices. While serving as CEO, Christine was responsible for leading the development and execution of the company's long-range strategic plan. In addition, she was responsible for the delivery of fully integrated financial, tax, investment management, and fiduciary services via businesses that included a Registered Investment Advisor and a South Dakota–based private trust company. Prior to joining Okabena, Chris held management positions at the Harris Bank in Chicago. She is now active as an independent director serving private companies and nonprofit organizations.

Charles B. Grace, III, Managing Director, Family Office Exchange
Charles B. Grace, III is Managing Director at FOX. Charlie works on strategic planning projects for families and family offices as well as wealth management advisor clients. He has more than 20 years of experience in the family office community advising ultra-wealthy families and has been quoted in various publications on the subject of private wealth management, including The Wall Street Journal, Financial Times, and Worth Magazine. In addition to his responsibilities at FOX, Charlie has been active on the Board of the single family office Ashbridge, LLC since 1992 and in 2010 was named President. He is a Trustee and member of the Investment Committee of the non-profit Tuttle Fund, Inc. in New York City. 
The Workshop will take place at the University of Chicago Gleacher Center in Chicago, IL. For a map of the Gleacher Center to locate surrounding hotels, please click HERE.
Nearby Accommodations: