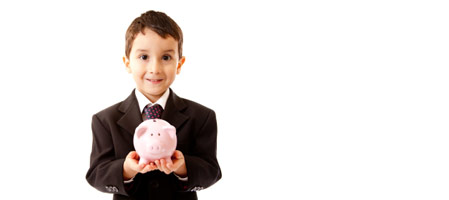 These virtual allowance systems and banks give kids hands-on experience saving and managing their money.
adapted from the product website:
This website and mobile app is targeted for younger kids, ages 4-7. The program doesn't have a lot of bells and whistles but it's a simple way for parents and children to track allowance, chores and gift money.
adapted from the product website:
With one membership, every child in the family gets checking and savings accounts that work with a virtual currency called "Beanz." Children earn Beanz by doing chores around the house or whatever else the parent decides. The site offers guidelines on what certain jobs are worth in terms of Beanz, and parents and children go on the site together to deposit earnings and check account balances. Once the Beanz build up, they can be redeemed for something real from the parents. Children also can donate some of their Beanz to charity by moving them to a donation account. The site makes money by selling polka-dot Beanz reward cards for $5 that parents can mail to their children with a custom note of congratulations. One dollar of the purchase price is used to fund the donations the children make to charity.
adapted from the product website:
This is a dynamic site that features a family organizer complete with family calendar, chore tracker, allowance and rewards. There is an education section that teaches children financial concepts in the guise of online games. DoughMain features partnerships with leading financial service companies to offer bank accounts (saving), retail gift cards and spending opportunities – all tied into your family.
adapted from the product website:
FamZoo is a virtual family bank for teaching money basics, managing allowances & chores, setting budgets, tracking savings goals, encouraging charitable giving, and much more. It includes family checklists for making and sharing lists of all kinds: weekly chores, ToDos, homework assignments, groceries... you name it! Appropriate for kids 4 and up. You can modify and extend your bank as your child grows.
adapted from the product website:
On this site, children ages 5 to 13 earn IOUs, which are deposited into save, spend and charity jars. Children can get IOUs in a variety of ways, including from baby sitting, birthday gifts and doing chores around the house. The site offers a visual lesson in budgeting in that children can easily see whether they have enough money in their "spend" jar to pay for certain items. Parents can link their credit cards to the virtual jars, and when a child wants to shop or donate money, he or she sends an online request to the parent. The parent can say yes, no or alter the request; if yes, the purchase is charged to the credit card and deducted from the jar. When a child wants to make a donation, he or she can choose from among more than 200 global partner charities.
adapted from the product website:
This program is geared toward 8- to 12-year-olds. Children can deposit "virtual currency" and create charts to track their progress toward saving for big-ticket items. Parents can link a credit card to the site, which has partnerships with Network for Good and Amazon.com Inc. that make it easy for kids to give to charities or buy products online, respectively. Parents select the categories on Amazon in which their children are allowed to shop, though kids complete the transactions. This site also has a social network where members can share with friends and family their wish lists or the fact that they have achieved a financial goal. Kids also can win virtual trophies for completing chores or donating.