Agenda | Exhibitor | Presenters | Venue & Accommodations | Download the Brochure
Presenters

Claudia Aguirre, Ph.D., Neuroscientist and Mind-Body Expert
Dr. Claudia Aguirre is a neuroscientist and mind-body expert, specializing in the connection between the brain and the skin. She received her Bachelor of Science degree from UCLA and earned her Doctorate degree from the University of Southern California, where she investigated hormonal interactions in the aging brain. In between her studies, she researched molecular mechanisms of schizophrenia at the National Institute of Mental Health (NIMH). She has also completed a certificate course on Yoga, Mindfulness and Social Change at Loyola Marymount University (LMU).
Dr. Aguirre is a TEDx speaker and a TED Education content creator whose lessons have reached an audience of millions worldwide. She has lectured globally at events, conferences and in academia, at Stanford University.
Dr. Aguirre consults internationally as a professional speaker, writer and spokesperson in the health and wellness industries. Her work has been recently featured on Vogue, The Atlantic, The Guardian, YouBeauty, Refinery29, Motherboard, Open Culture and Netflix. Her blog can be found on The Huffington Post.

Denise Bober, Vice President, The Breakers Palm Beach, Inc.
One of the hospitality industry's most respected HR professionals and innovative workplace specialists, Denise Bober fused her favorite disciplines, HR and the hotel business, into a successful 28-year career at The Breakers Palm Beach, one of America's most successful hotel companies and Palm Beach County's largest private employer.

Bober's responsibilities encompass recruitment, staff performance and development, wellbeing and social impact. She helped build an enduring workforce of 2,000 team members in tandem with the company's focus on employee fulfillment, driving up guest satisfaction, profitability and exceptional retention rates (one of the industry's highest). Her people strategy: hire good people, find the best role that suits their talents and competencies, help them to achieve a life well lived.

Upon her promotion to Director of Human Resources (1997), Bober began transforming the personnel department to have far-reaching influence throughout organization, while heightening The Breakers' commitment to social responsibility, something she strives to instill in all team members. She serves on the Board of Palm Healthcare Foundation and its Executive Committee, the Advisory Committee of the Rinker School of Business for Palm Beach Atlantic University. Executive Women's Association of the Palm Beaches, and served as President of the Palm Beach Chamber of Commerce. Bober recently participated in the 2016 Global Wellness Summit as a facilitator on Successful Workplace Wellness Programs.

Bober holds a degree in Hospitality Management from Nova Southeastern University and a Master's in Organizational Development from Palm Beach Atlantic University.
 

Daniel S. Bowman, Family Office Executive, Tibbetts Family Holding Co. LLC
Daniel Bowman is the Family Office executive for a single family office, serving four generations. The Family Office grew out of the sale of the family's domestic lumber company, the largest privately held building material dealer in the Southeastern United States. The family's investments include domestic and international assets in the building materials, real estate, hospitality and retail industries. As the Family Office executive his responsibilities include family governance and support, strategic investment and wealth management, operational oversight, and professional services coordination. He serves as an advisor on all family and business boards.

Dan primarily focuses on the transfer of generational wealth through estate planning, asset allocation and private equity investments. He serves as a primary advisor for estate planning coordination between multiple professionals of the four generations. All of the family groups work with him to ensure sound due diligence in evaluation of their private equity investments. He coordinates long-term planning related to asset allocation and tax planning.

Prior to joining the family he served as the Director of Finance at the University of South Florida Medical School. Mr. Bowman holds an M.B.A. in Finance and Information Systems from the University of South Florida (92) and a B.A. in Economics from Emory University (89).

Francesco D'Amico, Executive Committee, Quilvest Switzerland Ltd.
Francesco D'Amico is advising and taking care of the interests of the Bemberg family clients and third party families. He is further a member of the executive committee, responsible for all client matters and the development of Quilvest Switzerland Ltd. (QVS), the multi-family office of Quilvest.
In his role in Quilvest, Francesco has conducted a number of international estate planning and family/investment governance projects organizing and managing complex trusts, foundations and legal structures systems. Francesco is acting as trustee and protector for various clients. Francesco joined QVS after having founded and being CEO of the multi-family office of Unicredit, one of the largest European banks. During the same years Francesco has led the operations (strategic planning, marketing and communication, investment products and services units) of Unicredit Private Banking ($60 billion USD, 136 private banking offices, 600 private bankers).
Francesco has been a management consultant based in Switzerland for Price Waterhouse Coopers specialized in wealth management strategic assignments for most of the leading international private banks and wealth managers for the past eight years.  Francesco started his professional carrier as private banker in a Swiss Private Bank in Switzerland. He is on the board of various family offices and trust companies advising on the strategy and operations of the offices and defining effective and enduring family governance processes.

Bryan Dunn, Chief Executive Officer, Kinship Trust Company
Bryan Dunn is the President and CEO of Kinship Trust Company. He has worked exclusively with privately held family companies for the past 25 years.
For 14 years, until 1994, Mr. Dunn carried out a wide range of executive responsibilities at Joseph P. Kennedy Enterprises in New York. At the same time, he managed Merchandise Mart Properties, Inc., in Chicago, one of the country's premier office and showroom building owners with integrated investment and operating capabilities. As chief operating officer and general counsel for these companies, he played a lead role in acquisitions, asset management, leasing, development, finance, and owner relations.
Mr. Dunn is a graduate of Lehigh University and the University of Detroit School of Law.

Dawn Fuchs, Managing Director, The Weavertown Group, 2G Member of Founding Family of Weavertown LLC
Dawn Fuch's street smarts and quick execution when facing obstacles and opportunities have enabled her to achieve incredible success in the male-dominated environmental services industry.  Her innovative thinking and tenacity resulted in the Pittsburgh Business Times naming Weavertown Environmental Group (WEG) as "one of the Top Seven Environmental Firms in Western Pennsylvania."
Dawn's father, Donald Fuchs, started the company in 1981 with one truck, serving as a bulk transporter for the oil field industry.  Dawn joined the company in 1988 as a fuel desk clerk to learn the business from the ground up.  After hours, she handled calls for the company's newest service, emergency response.  While her father's philosophy had been "build a good product and business will come," Dawn believed "you can have a good product, but if you want the sales you have to go after them."
As the company began growing quickly, Dawn was named sales manager in 1995.  While being responsible for her own accounts, she managed a sales staff of four employees.  The steel industry responded to Weavertown's sales model and the company grew to 200 employees.  Dawn was named President in 2000.
In 2015 Dawn responded to one of the numerous inquiries that she receives daily from parties interested in buying her company. This inquiry was different and after numerous months of discussion and due diligence Dawn sold the family business to publically traded Univar head quartered in Chicago. Dawn currently serves as Managing Director.
Dawn serves on a number of boards including Team Pennsylvania, Allegheny Conference on Community Development, Pittsburgh Opera Board,  and the Washington Health System.

Robert L. Hammett, Vice President, Chifam LLC, 5G Member of Cowles Family
Bob is a fifth-generation family member who serves as Vice President of a single family office that manages numerous trusts for about 75 family members. The office helps family trustees and beneficiaries by engaging and supervising the work of outside professionals while having a small staff that deals directly with the members of the extended family. The focus of the office is on trust administration and accounting, estate planning, investment manager coordination, fiduciary and financial education, annual visits with family members, monthly newsletters, and estate and income tax return preparation. Bob is a CPA/PFS, CFP, MBA with prior professional work experience in public accounting and banking with a primary focus on estate, gift, and trust planning and taxation. The single family office is not directly involved in day to day activities of the legacy operating businesses located in the Pacific Northwest (newsprint and forestry, broadcasting and print media, and real estate) and a portfolio of actively managed direct investments.
Bob previously worked at Deloitte & Touche, Home Savings of America/Washington Mutual Bank, and KPMG LLP in California.  He is a member of the American Institute of Certified Public Accountants. Financial Planning Association and the Estate Planning Council in Santa Barbara, CA and Spokane, WA. 
Bob earned a B.A. in Mathematics, Economics and Accounting at Claremont McKenna College.  His M.B.A. in Finance and Policy Studies (Competitive Strategy) at the College of Financial Planning was earned at the University of Chicago Graduate (Booth) School of Business.

Karen Harris, Managing Director, Macro Trends Group, Bain & Company
Karen Harris is the Managing Director of Bain & Company's Macro Trends Group, out of the New York office.  The Bain Macro Trends Group (MTG) is the capability group for developing Bain's insights about global macroeconomics, macro social trends and geopolitics as they impact the results of Bain's clients.  The group's proprietary research includes work on trends driving global growth in GDP and in capital markets, as well as specific geographic analyses (including China, the United States, and the Eurozone), which it uses to help clients understand the potential impact of the volatile global environment on their businesses.  She frequently works with institutional investors to embed macro strategy into their investment strategy and due diligence.

Karen has an M.B.A. with distinction from Harvard Business School and a J.D. from Columbia Law School.  She graduated with honors from Stanford University, where she received a B.A. in Economics and a B.A. in International Relations.

Karen is regularly featured in major media outlets including the Wall Street Journal, Financial Times, Forbes, Economic Times of India, Caijing China, and CEO Forum Australia, Bloomberg Television and Global Entrepolis Singapore.

She is a member of the Council on Foreign Relations, the National Committee on US-China Relations, and the Economics Club of New York.  She is on the external advisory board of Harvard University's Master in Design Engineering program.  She also serves on the Board of Pencils of Promise, a non-profit which partners with local communities in developing countries to build schools, focusing on early education, high potential females, and building young leadership at home and abroad.

James E. Rooney, Principal and Co-Founder, FirstLink, 3G Member of Founding Family of Pittsburgh Steelers
Jim Rooney is Co-Founder and partner of FirstLink Research and Analytics. Prior to this, Jim founded the FirstLink Partnership Intermediary for the U.S. Department of Defense. It stood as the National Center of Excellence for First Responder Technology Transfer. He led this effort while serving as the Assistant Director of the University of Pittsburgh's Institute for Entrepreneurial Excellence (IEE).

Jim also served the University of Pittsburgh's Katz Graduate School of Business for more than seven years, working at several levels within economic development, university growth, public sector relationship management and student leadership development.  Before his tenure at the University of Pittsburgh, Jim worked in the private sector with technology start-ups and as a corporate sponsorship sales executive.

Jim began his career in the public sector by leading the City of Pittsburgh's 1991 Study of Childhood Lead Prevention Effectiveness. He also served as a member of the City of Pittsburgh's Planning Commission from 1993-1996.

Jim has served on the Board of Directors for the Juvenile Diabetes Research Foundation, the Ronald McDonald House Charities of Pittsburgh, and Gilmour Academy.

Jim holds a B.A. in Political Science and Communications from Boston College.

Stephanie Rooney, Chairwoman and Co-Founder, FirstLink
Along with her husband, Jim, Stephanie Rooney co-founded First Link. She provides strategic thinking and governance and oversees strategies related to growth.  This has led to solid decisions related to recruiting, retaining and attracting personnel.

Stephanie has led the company's commitment to a culture based upon open and clear sharing of ideas among its leaders and employees. Through implementing "Servant Based Leadership" as a core principal, Stephanie has helped employees create powerful change which has also transformed FirstLink and the way it works with customers in producing high-quality results through trustworthy partnerships. Her stewardship in balancing the tasks of operations with the personal growth and engagement of personnel creates the company's strongest asset, its culture.

Stephanie is a Gestalt Certified Life Coach, helping to foster positive development with a number of loyal clients. She is a devoted leader and volunteer at several charitable boards and organizations. One of these organizations is the United Way of Allegheny County's Allies for Children, which improves the wellbeing of at-risk children and youth by providing them a voice in policy and practice changes.

Lynne Twist, Author, The Soul of Money
Lynne Twist is a highly recognized global visionary and author of the best-selling book, The Soul of Money, which examines our attitudes toward money and offers compelling insight into our lives and the essence of prosperity. From working with Mother Teresa in Calcutta, to serving in refugee camps in Ethiopia, and preserving the threatened rainforests of the Amazon, Lynne's on-the-ground work has brought her a deep understanding of the social tapestry of the world and our current historical landscape. Lynne was recently interviewed by Oprah Winfrey for the show Super Soul Sunday, which will air on April 16, 2017.
_____________________________________________________________________________________________________
Family Office Exchange Presenters

Ann Dugan, Senior Managing Director of Consulting
Ann is Senior Managing Director of Consulting at Family Office Exchange.  Ann has dedicated much of her career to consulting with family businesses and family foundations as they strive to achieve long-term sustainability.  Ann is the founder of the Institute for Entrepreneurial Excellence at the University of Pittsburgh which she also led as executive director for nearly 30 years while also serving as the Assistant Dean for the Joseph M. Katz Graduate School of Business.   Ann's mission was to provide leadership in consulting, education and network building for closely held/family held businesses desiring to remain entrepreneurial throughout the generations.    Ann led her own successful succession in 2014, but continues to serve on several family business and philanthropic boards.
Most recently, Ann comes to FOX from Headwaters SC (HWSC), where she served as Managing Director, Family Advisory Services.  While at HWSC, Ann engaged with families and their enterprises, assisting them with their growth and development strategies while also planning for the next generation of family and business leadership.  Ann received her Bachelor of Science degree in Finance as well as her Master of Business Administration degree from the University of Pittsburgh.  Ann is a fourth generation member of a business-owning family within the lumber and building supply industry in southeast Georgia.  Ann currently resides in Pittsburgh, Pennsylvania, but her consulting and educational work continues to take her throughout the world.

Sara Hamilton, Founder and Chief Executive Officer
Sara Hamilton is the Founder and CEO of Family Office Exchange (FOX), the definitive source of information and best practices associated with the business of managing the family enterprise and the family's wealth across generations. The strength of the FOX network is derived from the collective knowledge and experience of over 490 globally-minded family enterprises and their advisors based in 20 countries.
Since 1989, FOX has made financial solutions accessible to business owning families by fostering dialogue among wealth owners and wealth advisors. In 2014, FOX celebrated its 25th anniversary of service and remains true to its founding mission of objectivity in wealth management, member education and shared knowledge across a sophisticated global network of families and leading wealth advisors.
Sara is the co-author of Family Legacy and Leadership: Preserving True Family Wealth in Challenging Times, © 2010, Wiley & Sons. For the past 10 years, she has served on the Executive Education faculty of the University of Chicago Booth School of Business for the course on Private Wealth Management offered twice a year in Chicago. She is a member of the World Economic Forum's Global Advisory Council on the Future of Investing and a board member for the Private Directors Association.
Ms. Hamilton was recently named one of the Top 50 Women in Wealth Management by PAM and was honored with this award for three years running by Wealth Manager. She serves on the editorial boards of the Journal of Wealth Management and Trusts and Estates magazine.

Amy Hart Clyne, Executive Director - Knowledge Center
Amy Hart Clyne is Executive Director of the Knowledge Center for Family Office Exchange (FOX), supporting the firm's extensive global community of ultra-wealthy families and advisors. Her effort is concentrated on knowledge acquisition, development, management and distribution. Focused on transforming creative, best practice and innovative ideas into practical solutions, Amy collaborates with all of the teams within FOX to ensure that the firm's collective learning is used to enhance existing member relationships, attract new members, and support the work of the consulting practice. Amy is also responsible for program design & development at FOX, including all forums, events and webinars. She is actively engaged in FOX strategic planning, relationship management, marketing and research planning, sales and training meetings, member events and workshops, and new product launch.
Leveraging over 25 years of extensive experience in private wealth management, Amy joined Family Office Exchange in 2012. Over the prior dozen years, she has worked as a consultant to some of the country's leading private wealth management firms and private family foundations. Previously, Amy was appointed Global Marketing Director of The Chase Manhattan Private Bank for seven years. Prior to joining Chase, Amy worked in Marketing and Training at Bankers Trust Private Bank and previously served as a Portfolio Manager for Lehman Management Company, a subsidiary of Lehman Bros. Kuhn Loeb, for six years, in the ultra-wealthy individual area.

Kristi Kuechler, President, FOX Private Investor CenterTM
Kristi Kuechler is the President of the FOX Private Investor CenterTM and the moderator of the FOX Private Investor CouncilTM and FOX Direct Investing Network. Kristi has opened the West Coast office for FOX and is based in San Francisco.
Kristi joins FOX after five years as Partner and Managing Director of Lattice Strategies, an investment firm based in San Francisco. Prior to her work at Lattice, Kristi served as President of the Institute for Private Investors (IPI), where she was responsible for content and curriculum development and oversaw all matters related to membership. Kristi also created the Private Wealth Management program offered at Stanford University and ran it for three years.
Kristi has a bachelor's degree from University of California-Davis, and a masters in educational policy from Stanford University.
Registration for this event is limited to Wealth Owners and Family Office Executives attending with a Wealth Owner.  All registrations are subject to approval by FOX.
REFUND POLICY: For event registrations, refunds of payment or forum allotments will be offered if the cancellation is made in writing to Family Office Exchange at events@familyoffice.com five (5) or more business days prior to the start of the event. For more information regarding administrative policies please contact FOX office at: 312.327.1200.
Field of Study: Finance - Up to 6 CPE credits can be earned by attending this event. CPE credits are accepted at the option of state certifying boards. Requirements, compliance procedures and acceptance may vary by state. Learning Objectives: Upon completion of the program, participants will be able to identify the various roles of an enterprise family, understand how to engage in entrepreneurism, gain insights on the current economic climate around the globe and recognize the value of re-conceptualizing one's relationship with money.
Program Level: Overview | No prerequisites are required for any of the sessions. | Delivery Method: Group Live Program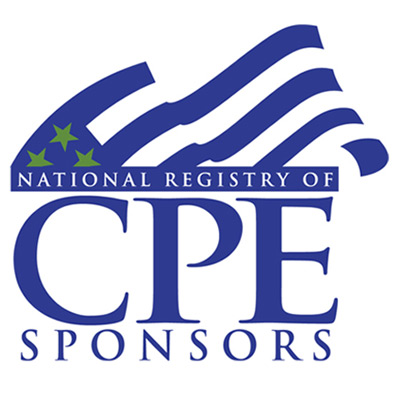 Family Office Exchange is registered with the National Association of State Boards of Accountancy (NASBA) as a sponsor of continuing professional education on the National Registry of CPE Sponsors. State boards of accountancy have final authority on the acceptance of individual courses for CPE credit. Complaints regarding registered sponsors may be submitted to the National Registry of CPE Sponsors through its website: www.NASBARegistry.org.