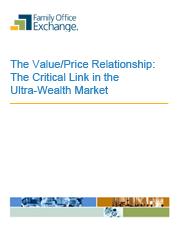 We are pleased to announce that the 2016 FOX Value Price Study: The Critical Link in Ultra-Wealth Market is available for FOX members.
Key Insights found in this study include:
Advisors have lost at least some pricing power with prospects as fees quoted to prospective clients have dropped 17% since 2008 and 15% since 2012.
Among current clients fees have flattened-out, in large part, due to the difficultly advisors encounter in articulating value.
The report uncovers new strategies that forward-thinking advisors are beginning to use that better link value and price.
Please download this study and share it with your colleagues.
This document is available to FOX Members only.