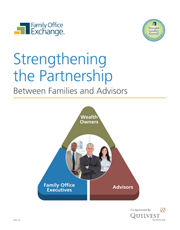 The 2016-17 FOX Thought Leaders Council Report: Strengthening the Partnership Between Families and Advisors is a great resource for those who are seeking ways to construct sustainable partnerships and how to make them productive. Inside, you'll find why partnerships are key to successful family/advisor relationships, what makes partnerships enduring, how to determine the right partnership approach and how to manage new as well as existing partnerships.
Strengthening the Partnership Between Families and Advisors is organized into six sections:
Prologue on Trusting
Executive Summary
The Value of Strong Partnerships
The Power of Partnerships
Partnerships Roles and Models
Strategies for Building Partnerships
After reading this report and sharing it with your colleagues, you will possess:
Reasons why families and advisors seek to build strong partnerships.
An understanding of why trust among families and advisors is the essential, underlying element that makes partnerships work.
Examples of how great partnerships produce better results for families and their advisors.
Ways to build and manage their partnerships.
Steps to improve existing partnerships and select new partners.
Recommended for:
Family office executives, multi-family office staff, wealth advisors, family members and wealth owners.
This document is available to FOX Members only.