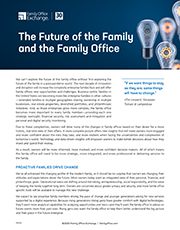 We can't explore the future of the family office without first exploring the future of the family in a post-pandemic world. The next decade of innovation and disruption will increase the complexity enterprise families face and will offer family offices new opportunities and challenges. Business-centric families in the United States are becoming more like enterprise families in other cultures—extended families in multiple geographies sharing ownership in multiple businesses, real estate properties, diversified portfolios, and philanthropic initiatives.
As a result, owners will be more informed, more involved, and more confident decision-makers. All of which meansthe family office will need to be more strategic, more integrated, and more professional in delivering services tothe family.
This document is available to FOX Members only.